Le Bottin Immobilier is a real estate agency created in 2002, located in Amiens, in the department of the Somme (80). It is now recognized for its seriousness, efficiency, relationality and transparency.
A member of the FNAIM since its creation, the first organization of real estate professionals, an unrivaled union force, a quality approach that makes a difference and a requirement for training.
Didier BOTTIN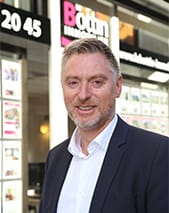 The founder started his profession at the age of 23 as an agent for a Parisian firm "Pier Conseil", the firm specialized in the sale of new real estate associated with the tax exemption, such as the "Méhaignerie" law.
After two years of sale in VEFA (sale in future state of completion of works), Didier BOTTIN integrates the agency "Saint Germain Immobilier" located rue Saint Germain in Amiens (80). Contrary to the previous experience, the main sales were, on the other hand, oriented towards the old.
Four years later, Didier BOTTIN was approached by the "Agence de la Poste" located at rue du marché Lanselles in Amiens (80). He held the position of Deputy Commercial Director of Transactions. This time the type of marketing included the sale of old, new homes, VEFAs and commercial funds.
Five years later, Didier BOTTIN holds a position as an agent in a national agency network in Amiens (80). Its aim is now to create an agency.
Twelve months later, Didier BOTTIN created his real estate agency, "Le Bottin Immobilier".
In January 2012, Didier BOTTIN anticipates a difficult year, the presidential election campaign and the subprime crisis since 2008 causes significant turnovers, many real estate agencies are disappearing. Of these facts, Didier BOTTIN takes the decisions necessary for the survival of the company.
In 2013, Didier BOTTIN decides to create a network of agents in order to transfer his knowledge to future collaborators with the objective of creating employment and the goal of deploying the forces of a network.
In 2014, the first recruitment starts, followed by a period of implementation, observation, analysis and development.
In 2015, launch of the network on the department of the sum and setting up a service win / win virtual home staging.
In 2016, reflection on the traditional real estate agency with its showcase, the network of independent agent called "agency at home" without showcase. Didier BOTTIN learns about new innovations and asks himself the question of the agency of tomorrow.
In 2017, setting up a new website and a new concept ...
Didier BOTTIN manages the company, its development, recruitment, training in collaboration with the Superior School of Real Estate of the FNAIM, counseling, coaching and sales to stay connected with the reality of ground.
---